---
A unique, yet familiar, planner that actually works for you and your unique baking business!

what is digital planning?
---
Digital planners are hyperlinked planners that work inside your favorite note taking apps (such as GoodNotes).

These planners give the you the best of both worlds, allowing you to have the familiar paper-planner layout while having all the benefits of the digital world.

Our planners where created specifically for Cake and Cookie decorators, featuring special industry related lists, widgets, reminder stickers, guides, resources and more! Each planner also comes with a bonus consultation form notepad to capture all your orders and sketches.


10-12 minutes invested in planning your day will save at least 2 hours of wasted time and effort throughout the day

Fully customizable allowing you to finally create system that truely works for you.

Create a space that is all yours! Aesthetically pleasing layouts are at your fingertips!
you're going to love the...
---
Easily jump to anywhere you need to go in your planner with the help of our hyperlinked tabs, tool bars, sections and other elements sprinkled throughout the planner.
Built-in Resources, Guides & Re-usable Templates

The planner includes a number of specially made-for-bakers features. We've included grocery and specialty shopping lists, baking conversion guides, round cake stacks, square cake stacks, cake amount guides, daily templates, habit trackers, project planners and so much more!
Customizable Widgets and Stickers

You'll receive an entire digital sticker book full of customizable widgets, list makers, stickers and sticky notes to help you streamline your planning and never miss a beat.
Google Calendar intergration

Jump straight into your Google Calendar app from your planner with just a tap of the like "+" icon in both our Monthly and Weekly spreads, allowing you to create reminders with ease!
Whether you're sitting down for a planning time on your ipad or at the grocery store with your iPhone, you can sync your planner between devices so you always have your planner nearby and ready-to-go! (Note: This functionality varies depending on the note app being used)
The benefits go on and on!
new features for 2023 digital planners
---
Manage up to six linked orders per week in your new weekly Order Dashboard. Quickly jump to your indiviudal orders from your Weekly Spread or use your Order Dashboard to see them all at a glance!
Choose between Sunday or Monday start, between two weekly layouts (blank or checklist) and two order layouts (blank or consultation) to best fit your planning needs!
Goal Dashboard includes 10 dedicated Goal Worksheets to help you keep track and make actionable plans for your more important goals.
Monthly Overview and Reviews

Plan your months out with intention using our Month Overview and then Review them to analyze your progress and patterns. Quickly toggle between months to analyze progress throughout the year.
Sugar Cookie Worksheets, Guides and Customizers

Sugar Cookiers we've got you covered with new worksheets, guides and customizers to make your cookie baking and decorating more streamlined than ever before.
We've got even more cake geared worksheets ready to make your baking and decorating process a well oiled machine!
More links throughout the entire planner for easier navigation! Easily jump to the weeks through the side tabs. Toggle buttons to jump between section pages. Jump to week or order dashboard from the at a glance calendar!
New monthly layout that maximizes your writing space each day. Color changing stickers for GoodNotes users!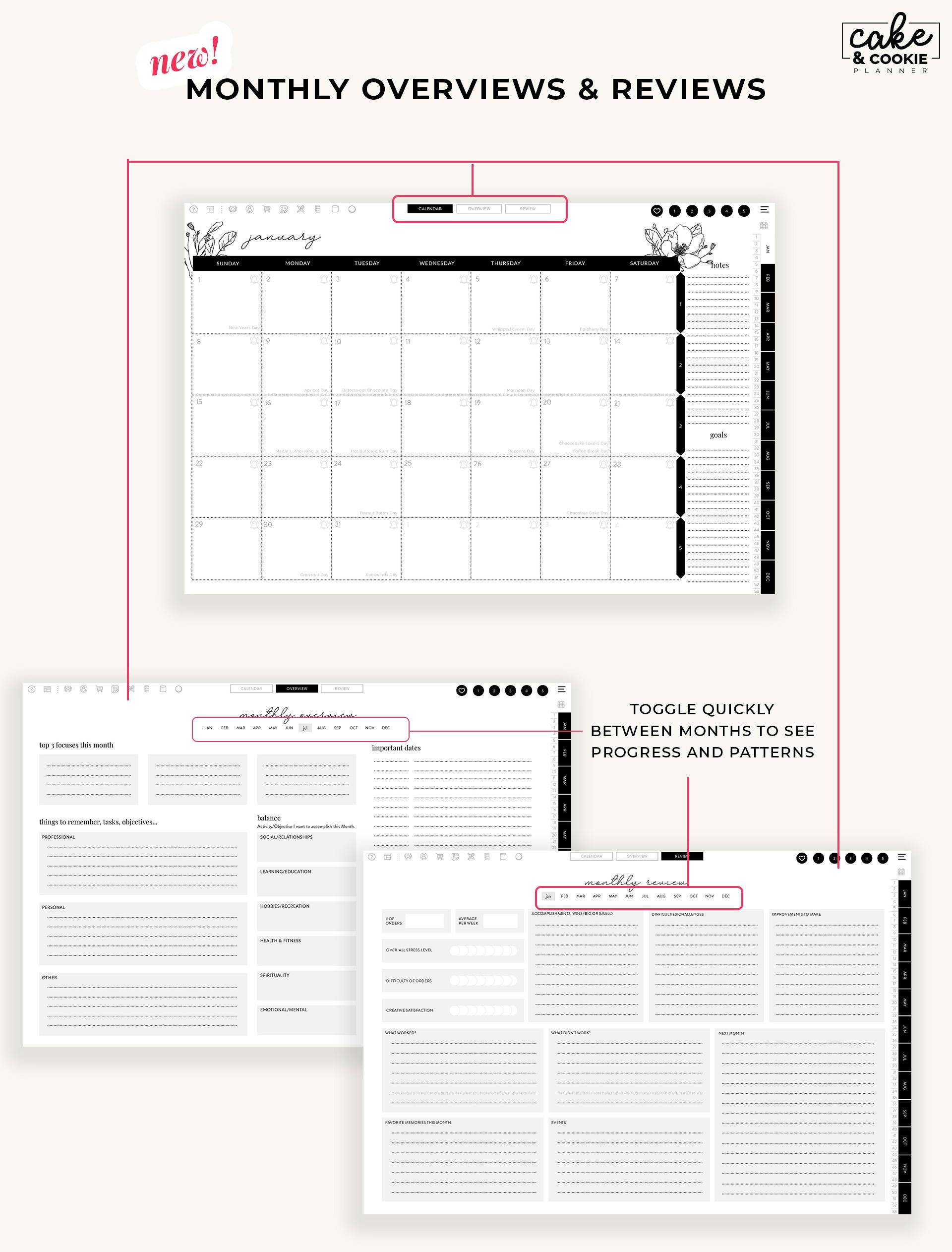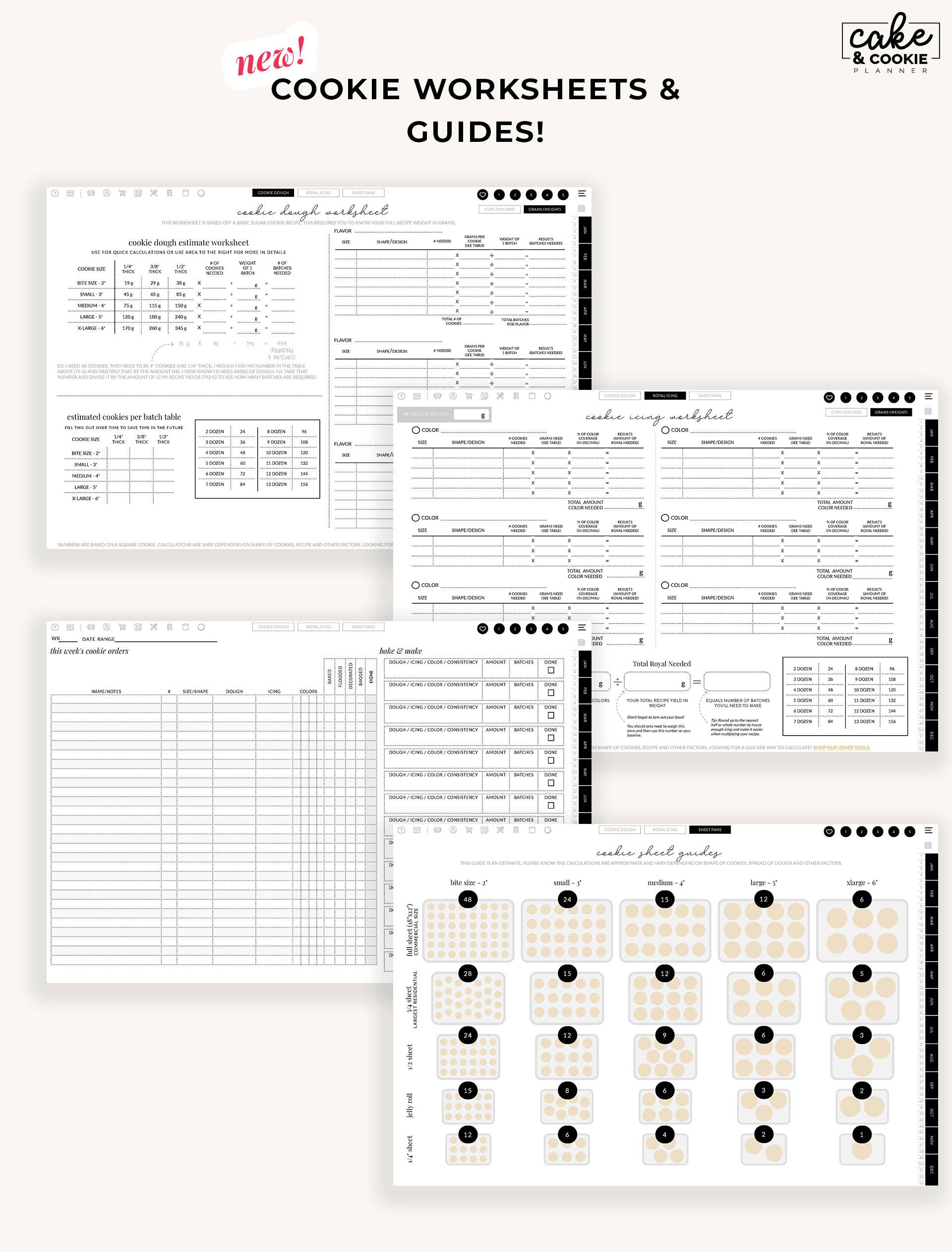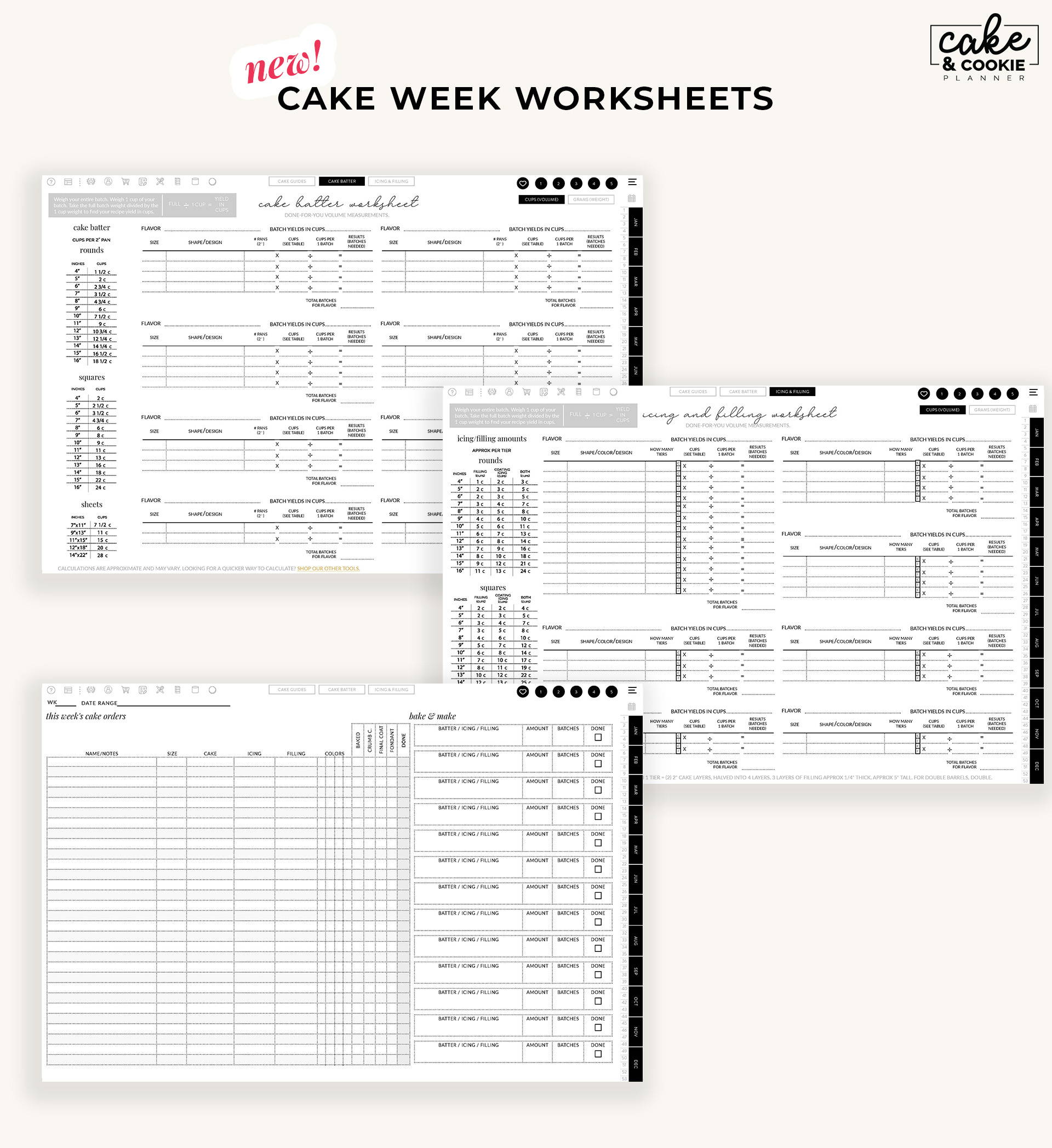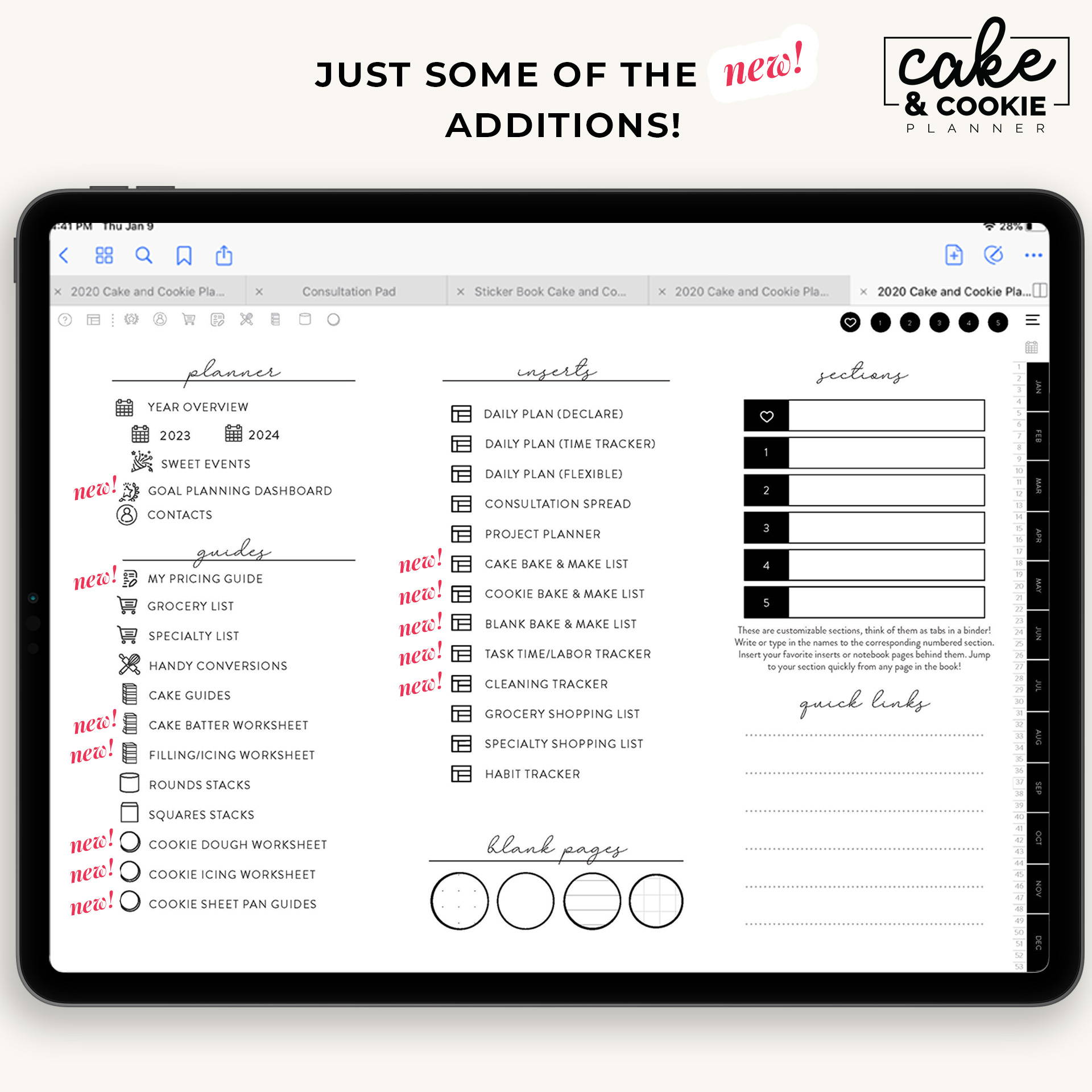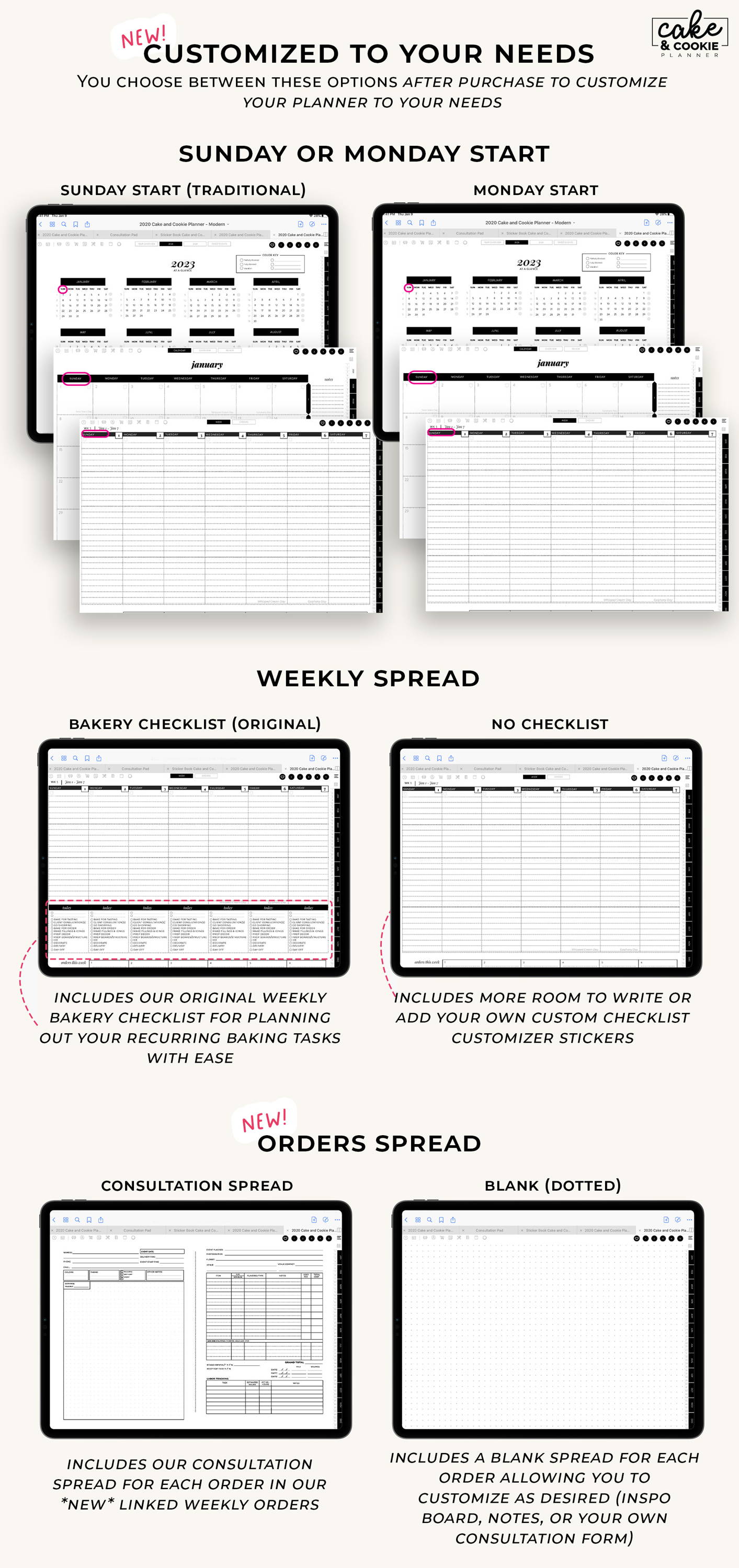 Want to see all the amazing features for yourself?
Check out our full tour video!
---
win back your peace of mind
---
Let's be honest, navigating through your baking week without a good planning system is - choatic. You've tried apps and other systems and you just find yourself further frustrated and defeated.
Our planner offers a different solution - the familiarity of a classic paper-planner layout, with all the benefits of digital. We've taken that classic feel even a step further with our specially designed elements created just for our unqiue baking industry.
Whether you already have a planning system or you're still developing it, our planner offers the flexiablity along with the ease-of-use, making it the perfect solution for your unique needs.
No. This is a PDF Planner that works INSIDE note taking apps like GoodNotes (our favorite), Notability, Xodo and more!
Does it work on Andriod devices?
Yes it does! You'll just want to use a note taking app like Xodo.
Our favorite combo is an iPad Pro and an Apple Pencil -- that will give you the most control and the best over-all experience.
However, you can use a variety of devices including phones and computers.
What if I don't know how to use this?
We have an array of how-to videos on our YouTube Channel you can view here: Cake Planner Playlist
Along with that, you can also join our Facebook Group where Avalon shares her favorite tips and the community is always helping each other out!
What is your refund policy?
Due to the nature of digital products, we have a strict no-refund policy. We strongly encourage you to read through the device requirements and product descriptions thoroughly, prior to purchase.