Procreate tools to up-level your cake designs & help you sell more cakes!
what exactly are digital cake sketching tools for Pocreate?
We've developed a line of digital stamps, brushes and more that work exclusively with the most popular digital sketching app - Procreate. These are no typical Procreate tools, they are created specifically for cake and event design, along with unheard-of, unique and innovative features.

Don't know how to draw? Or, just don't have time to draw everything from scratch? That's where we come in. With just a few taps and swipes, you'll be pumping out client-winning sketches faster than ever. Allowing you to concentrate on designing the most gorgeous cakes you can dream up.

Combining the flexibility of Procreate with our powerful tools will have you creating gorgeous sketches, visualizing your designs in a whole new way and selling to your customers with ease.

Getting your ideas down on "paper" has never been so easy!

No-mess digital tool kit at your finger tips, ready to start creating with just a tap and a swipe.

New stamps and brushes created regularly, staying up-to-date on the latest industry trends.
welcome to designer heaven
With our Procreate Stamp and Brushes, you'll have access to 100s of popular and staple cake design assets right at your finger tips... sparking ideas and igniting your creative process in a whole new way. Complete color, positioning and size control with every asset makes the possibilities endless!
To flow as a designer, we need to explore different ideas and let our imaginations go wild. Unlike traditional sketching, digital sketching allows you to easily move design elements around, switch them out, change colors - giving you full flexibility when designing.
There is nothing better than a fully thought-out sketch to guide you through your caking day! Colors? Sizes? Decor? Full visual blueprint to make planning your days fool-proof. No more forgetting colors, decor, etc when you have it right in front of you.
Full artist customization

As artists, our branding is important to us. With Procreate and our tools, you can fine tune your sketches to reflect your brand or even customize your style to your clients preferred aesthetic. From polished 3D to realistic watercolor, the artistic design of your sketches is limitless. And did we mention it was fun? Cause it's so much fun.
your client-winning secret weapon
Start winning over your dream clients with jaw-dropping-gorgeous sketches. Let them see your design genius pour out right there in front of them. Your clients will book doubt-free with clarity and peace of mind, knowing exactly what they're getting.

Or, maybe you're just tired of making the same cakes over and over again. Stuck in a loop because they want "the cake in the photo" and you have a better idea, but no way to really show them. Now, you do!
unique & innovative features
We've developed unique features not included with most Procreate stamps and brushes you'll find! Besides being created specifically with cake and event design in mind, we've also built in some features that will save you tons of time and create amazing dynamic customizations.
With a lot of our element stamps, we include two styles, Outline and Pre-painted 3D.
Outline stamps with an opaque, white fill built-in, achieving stamping and stacking in a fraction of the time! Ready for painting and adding your own artistic touches.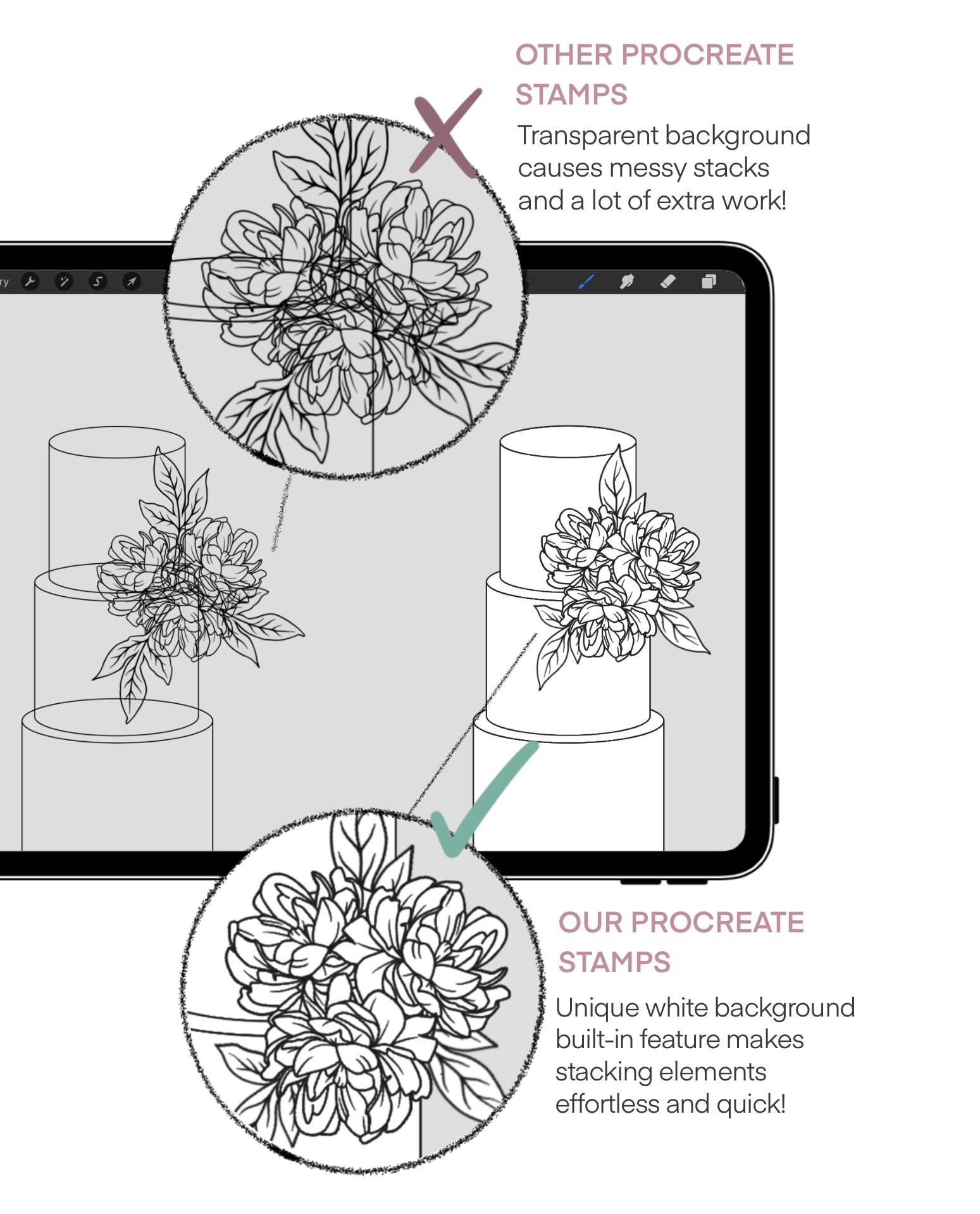 Our pre-painted 3D stamps come with built-in opaque dimension!
These are our biggest time savers, resulting in a polished ready-to-go design.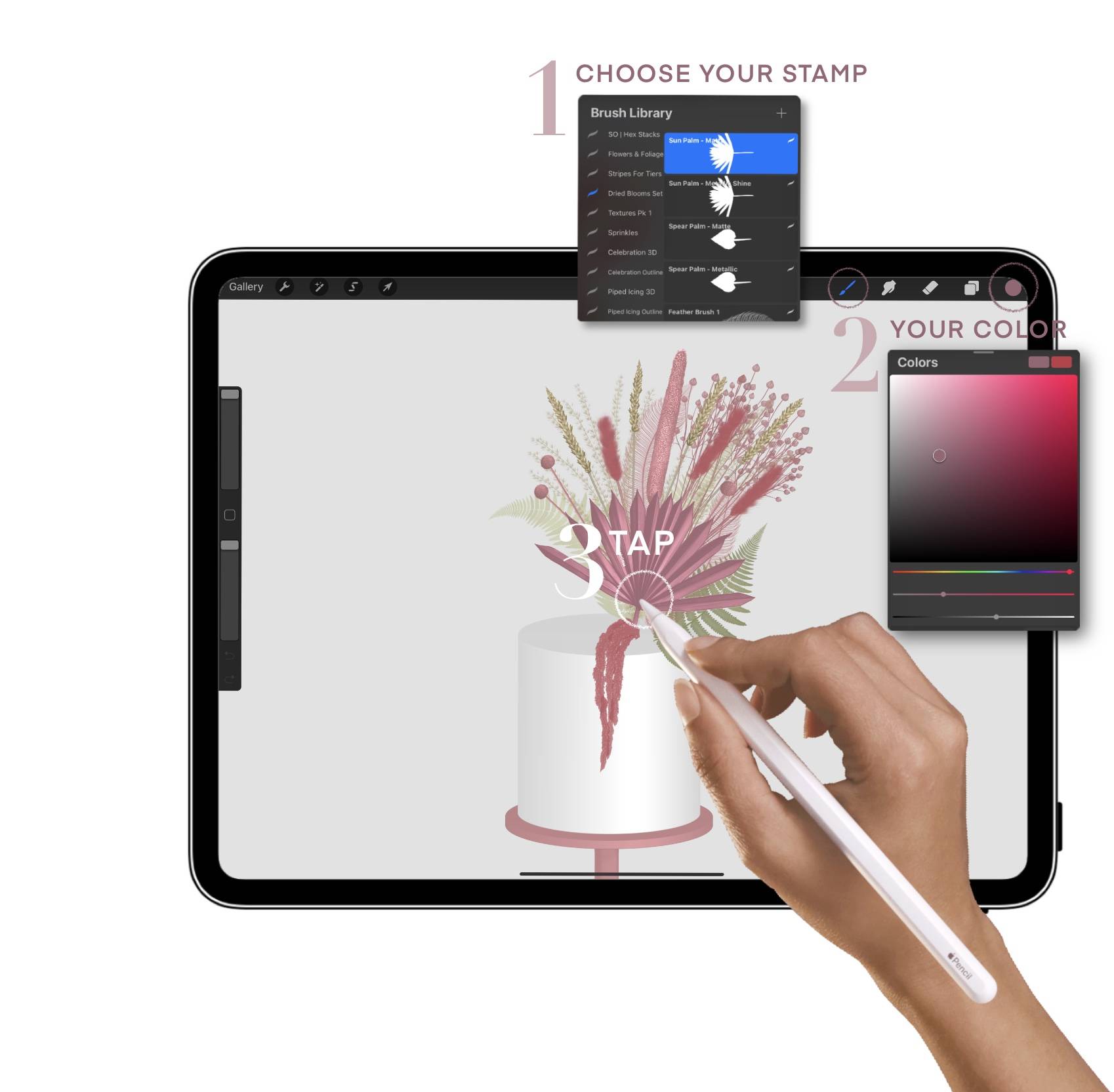 but, I don't know how to use Procreate...
You think we'd leave you hanging like that? Never!
We have created a Digital Sketching Knowledge Hub filled with step by step videos and resources! You'll get instant free access after the purchase of any of our Procreate tools.
Never opened Procreate? No worries, we've got a full walk through video. Never created digital art? We've got you! With our full library of how-to videos and video tours of each stamp set, you'll have everything you need to start digital sketching in no time! Plus, enjoy live sketching sessions with Avalon inside the private Facebook group.
" but, I don't know how to use Procreate... "
You think we'd leave you hanging like that? Never!
We've created a Digital Sketching Knowledge Hub filled with step-by-step videos and resources.
You'll get free instant access after the purchase of any of our Procreate tools. From full Procreate how-tos to live sketching sessions, we've got an extensive library of resources that will have you digitally sketching in no time!
all Stamps and Brush Bundles
Bundle all of our Essentials Procreate Stamps
Bundle all of our Year-Round + Seasonal
(Autumn, Halloween, etc.) Procreate Stamps
*Specialty Stamp Packs not included in these bundles, however if added to the cart on top of the bundles, they will also receive 20% off! 🎉
essential stamps & brushes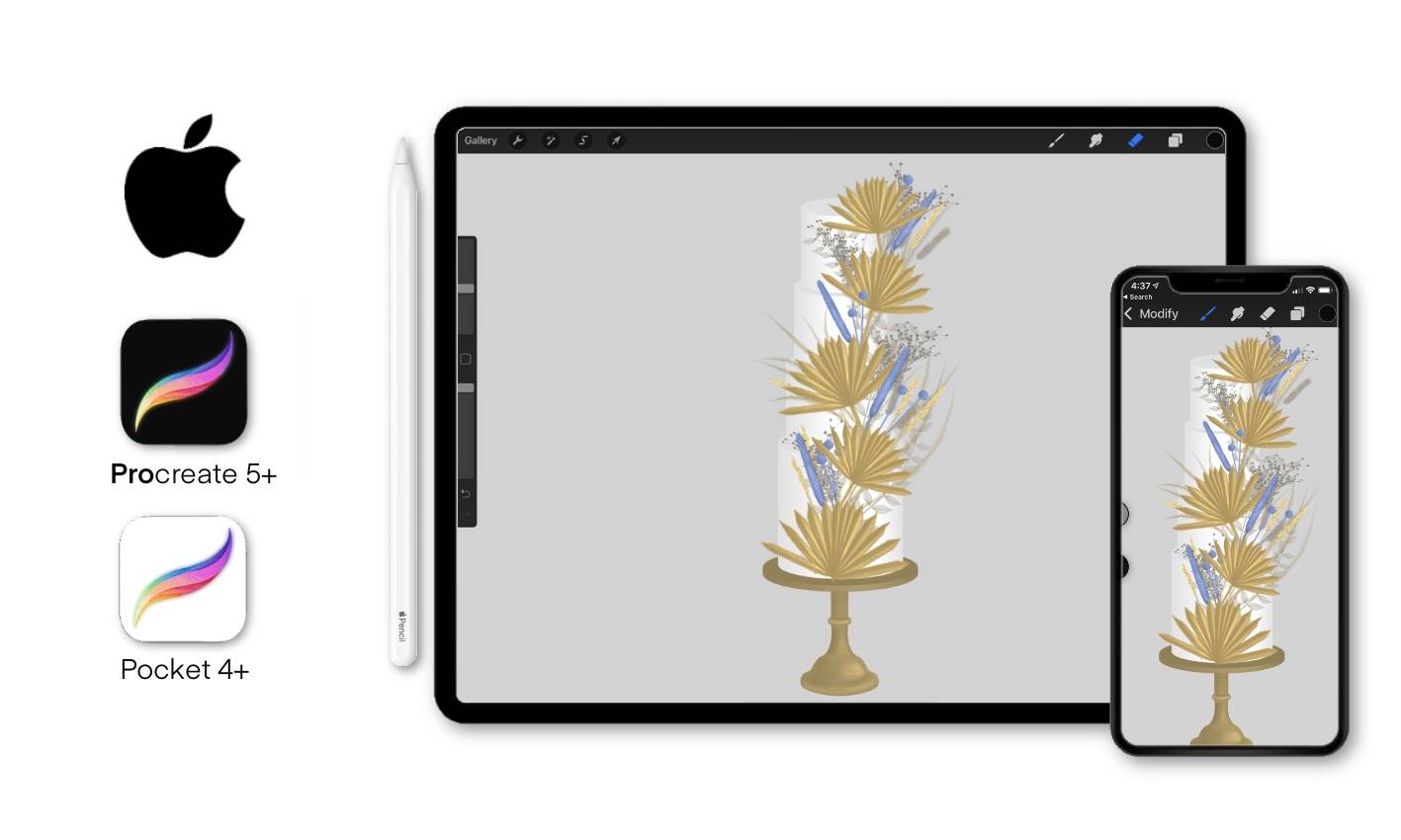 Exclusively on iPads and iPhones!
Our tools work with iPad Pro and a apple pencil (our preferred setup), however you can also use our tools on "Procreate Pocket" on your iPhone!
Procreate is the leading digital illustration and painting app, exclusively for iOS (Apple) devices. Our tools currently work with Procreate (for iPads) version 5 and newer, and also Procreate Pocket (for iPhones) version 4 and newer. As of 5/17/2021, Procreate is a one time purchase of $9.99, and you can find the apps within the Apple App Store.
Does it work on Andriod devices?
Unfortunately, Procreate does not currently work with Android devices. We are looking into equivelent apps that we may be able to create similiar tools for. We'll keep you posted, so be sure to get on our email list and also let us know if that is something you are interested in.
Our favorite combo is an iPad Pro and an Apple Pencil -- that will give you the most control and the best over-all experience.
However, you can absolutely use your iPhone with a stylus or your finger! Please note that you will not have some of the same dynamics, like pressure sensitivity.  
What if I don't know how to use Procreate?
We've put together an entire library of how-to videos ready for you on the other side of any stamp purchase! You'll get full access to our Digital Cake Sketching Library, which includes how-to videos, video stamp pack tours and access to our Facebook Live replays!
If you upgrade a pack, do i have to pay extra?
Any updates or upgrades to packs will be sent out to anyone who has purchased the set at NO extra cost! Tip: Flowers and Foliage pack is getting a massive upgrade with it's 3D flowers soon!
What is your refund policy?
Due to the nature of digital products, we have a strict no-refund policy. We strongly encourage you to read through the device requirements and product descriptions thoroughly, prior to purchase.